13 Must-Post Instagrammable Spots in Eureka Springs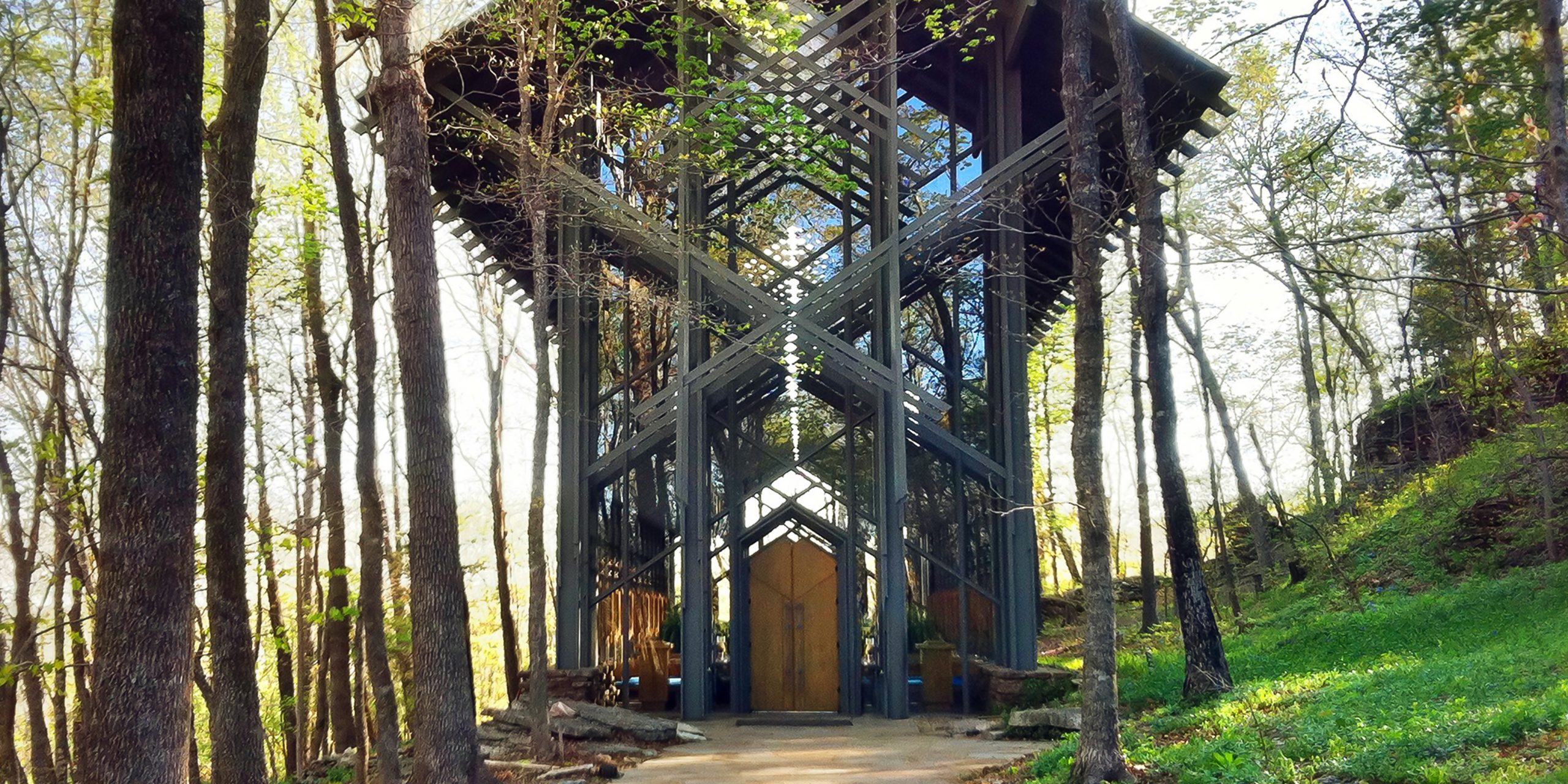 13 Must-Post Instagrammable Spots in Eureka Springs
From an awe-inspiring religious landmark that rises 65 feet into the Ozark sky to a network of dark, navigable caves, Eureka Springs offers a wildly eclectic array of photogenic places. You're sure to keep the camera busy when you visit here, whether you're shooting sweeping natural vistas, historic locations, quirky surprises or cozy selfies.
There is literally no end to the Instagrammable moments and selfie stops in and around Eureka Springs — but here are 13 places you won't want to miss if you're looking to rack up the likes:
---
Downtown
Right where Spring and Center streets split and form a "V" sits Eureka Springs' very own flatiron building, one of the most photographed structures in Arkansas. That's because Flatiron Flats, as it's more formally known, is simply stunning to behold — an ornate blend of brick and concrete, with tall windows in the narrow front and wrought-iron balconies on the both sides. Flatiron Flats is home to four luxury suites, with boutique shops on the bottom floor. Spring Street slopes upward, while Center Street slopes downward, making for some very intriguing photo angles.
A whimsical sculpture of Humpty Dumpty overlooks the intersection of Main and Spring streets. Yes, he's sitting on a wall, a multi-tiered one made of stone. And, no, he won't have a great fall — despite his slightly worried expression — because Humpty is anchored in place with rebar and cement. Created from a piece of solid white oak by Missouri chainsaw carver Keith Gregory, Humpty weighs 1,480 pounds and looks rather dapper in his blue, yellow and red ensemble. Unfortunately, you can't take a selfie with Humpty, as he's out of reach on private property. But he's always happy to pose for shots from the street.
A long, steep set of stairs connects North Main and Center streets. In 2015, a group of artists and volunteers painted a swirling, colorful mural on it — based on the combined artwork of two members of the Eureka Springs High School Art Club. The trippy painting covers the entire length of the stairs. Have a seat for a quick and colorful selfie, or get more ambitious and shoot from multiple angles.
You must visit this grand hotel that sits atop a hill overlooking downtown, offering photo-worthy views in every direction. The Crescent — which originally opened in 1886 and was restored and reopened in 2000 — sits on 15 acres of manicured gardens with hiking and biking trails that loop throughout. You'll get the best photo ops if you lodge here, of course, but if not, you can dine at SkyBar Gourmet Pizza and snap pics of the vast green landscape in between bites and sips.
Here's an ideal spot to shoot a few pics and capture the ambience of our quaint and walkable downtown. The wrought-iron-draped New Orleans Hotel sits amid a cluster of shops and makes for particularly lovely night shots, when the buildings turn their exterior lights on. While you're here, be sure to snap a few pics in the hotel's lobby, with its rich wood floors, beautiful rugs and vintage furniture.
Shortly after Spring Street breaks north from South Main, you'll encounter a small park with a bandshell that hosts regular live music (if you like to photograph bands, this place is for you). Just past the arc-shaped entrance, you'll see a fountain and a statue — nice spots for selfies — but don't miss the ornate sculpture of a mermaid-like figure wearing an elaborate crown and holding a staff. We call her the Diva of the Ozarks, and she's ready for her closeup.
Built at the very beginning of the 20th Century in the style of a European castle, The Palace is allegedly a one-time brothel and getaway for W.C. Fields as well as mobsters (just picture them in their rakish fedoras). The hotel has been restored to its former glory and is on the National Historic Register. But the real photographic draw here is the sign, purported to be the first neon sign west of the Mississippi. It doesn't take much imagination to recognize its…well, shape. We suggest posting it and letting your followers discover it on their own.
---
Closeby
You'll run out of energy — or battery power — before you come close to exhausting the Instagram and selfie possibilities at this wonderful park, just five miles north of downtown. Roam the 1,600 acres, which include 25 miles of hiking trails, as well as mountain-biking courses. The park includes 85-acre, spring-fed Lake Leatherwood, and there are a lot of places to jump into the water (action shots anyone?) The property has a long bridge and a man-made waterfall. Best of all, this may be the only park in the country where you're guaranteed to get a picture of Sasquatch. All you have to do is snap a selfie with the friendly Bigfoot sculpture that's sitting on a bench collapsing under his weight.
About four miles north of downtown, you'll find this classic roadside attraction that features an array of astounding rock formations. The main point of interest, the giant Pivot Rock, is shaped like an inverted pyramid. Make sure and pose like you're holding it up over your head. Take a short hike along the pathways, where you'll find large rock overhangs and other formations, and a natural stone bridge. Climb on (or under) for group shots. Browse the quaint gift shop, too. You'll pay a nominal fee to enter the park.
Nestled in the woods three miles northwest of downtown, Thorncrown Chapel is a true architectural marvel. The wooden structure rises 48 feet amid the trees, and contains 425 windows that house 6,000 square feet of glass. The building sits on more than a hundred tons of native stone and colored flagstone. Point your camera in any direction and you'll get something well worth posting. Best, though, is shooting the chapel's exterior from different angles. Thorncrown Chapel conducts Sunday services  (April through October) and is open for tours, except for January and February.
This 65-foot-tall ivory modernist statue of Jesus can be seen from miles around. Stroll the sloped grounds and you'll find countless cool angles to shoot this remarkable landmark. Photograph the statue from a distance or gather family and friends to take pictures of Jesus benevolently hovering behind you. He likes to pose for solo selfies, too.
This attraction celebrates the ancient heritage of the Native Americans who inhabited the land and held important ceremonies here, as well as the breathtaking natural beauty of the Ozark region. Blue Springs Heritage Center, seven miles northwest of downtown, showcases an abundance of colorful gardens, more than a mile of trails, and ponds filled with brilliant blue spring waters that are rimmed with flowers. The Bluff Shelter, a huge rock overhang, is on the National Register of Historic Places. Incredibly beautiful, #nofilter needed.
You'll be inspired, all right. The perfect spot to shoot sweeping panoramas of the gorgeous Ozark landscape (as well as the Crescent Hotel in the distance), Inspiration Overlook sits on a cliff 550 feet above the White River that serpentines through the valley below. This golden spot is just six miles northwest of downtown.
Six miles north of downtown you'll encounter this vintage, one-lane bridge that crosses the White River into the town of Beaver (population 100, give or take). Built in 1949, and added to the National Historic Register in 1990, it's the only suspension bridge open to traffic in Arkansas. Walk the short hiking trail on the north side of the river and snap pics from an array of angles; or point and shoot as you cross the bridge in your vehicle.
---
A Little Farther Out
There are a lot of navigable caves in this neck of the Ozarks, and they all provide Instagrammable moments. Cosmic Cavern — 20 miles east of downtown — lives up to its name with some truly freaky (and colorful) rock formations and two lakes whose bottoms have never been discovered. Cosmic Cavern is especially inviting in the summer because it's always 64 degrees. Tours last about an hour and 15 minutes.
---
From The Blog
You Might Also Like