8 Can't-Miss Fall Events in Eureka Springs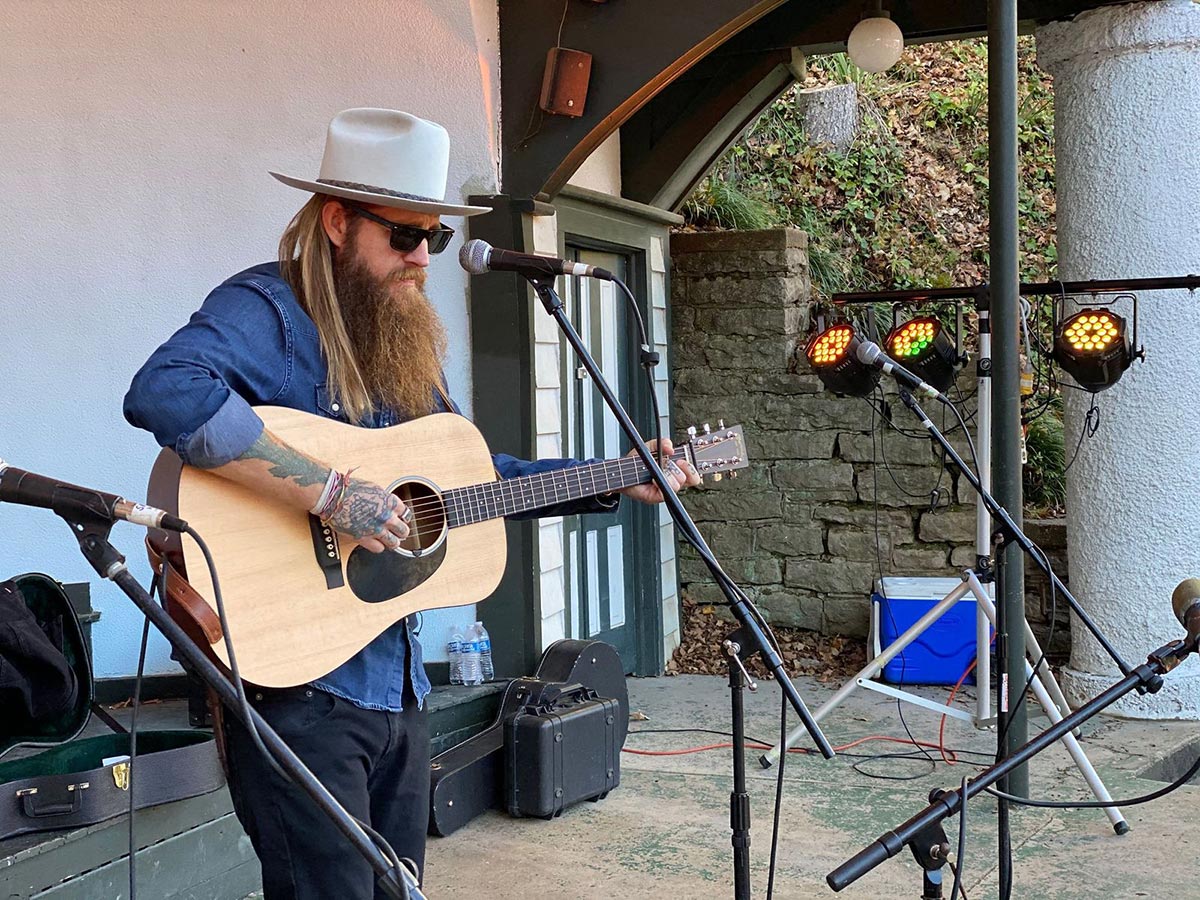 8 Can't-Miss Fall Events in Eureka Springs
The weather cools off, the leaves turn brilliant colors — and big, vibrant events take place. Welcome to fall in Eureka Springs. Come join us for a wide variety of shows, festivals, walking tours and other gatherings that draw people from all over the Ozarks region and beyond.
As you'll see in our curated list of eight major events, we're a hub for automobile aficionados. And we love our music and history, too.
This come-one, come-all celebration of vintage vehicles draws enthusiasts from far and wide. It's not a hoity-toity event. Beat-up pickups have been seen in the auto promenade that winds through downtown — along with classic muscle cars, custom hotrods, family sedans, station wagons, SUVs, off-roaders and more. The eclectic array of automobiles is part of what makes this annual fest such a gas. (See what we did there?)
This year's edition is headquartered at Stonegate Lodge. That's where a Sunset Cruise through Carroll County embarks at 6:30 p.m. Thursday, September 9. The following day features a Poker Run around Berryville (12 miles east of Eureka Springs). That evening, a party with live music takes place in the Harter House supermarket parking lot. The event's highlight — the Automobile Parade through Historic Downtown — begins at 2 p.m. Saturday, September 11. The cars will begin to assemble at noon at the Eureka Springs Community Center, offering spectators the opportunity to view them up close. There's a lot more going on at this heritage event, so check out the website for info.
In the space of a week, we go from a half-century-old car event to an inaugural one. The Jeep Jam celebrates an iconic vehicle that dates back to the United States' run-up to WWII. Fun fact: The first civilian Jeep brand was the 1945 CJ-2A, marketed as the "All Around Farm Work-Horse." Friday, Sept. 17 features a full day of off-roading at Rush Spring Ranch in Pineville, MO, 45 miles west of Eureka Springs. That will be followed by a registration and meet-and-greet at the Rockin' Pig Saloon.
On Saturday, it's the Jeep show and contest at the Great Passion Play grounds, followed by a cruise/parade through Historic Downtown, starting at 2 p.m. The festivities continue at 6 p.m. for the Jeep Music Jam at The Cathouse Lounge. Event registration for participants is $50; it's free for spectators.
Car festivals roll on. "No bitter competition, no concours preparation… just a lot of viewing and driving enjoyment. All Corvettes, modified, restored, original or daily driver, from all years, are welcome." That's how organizers describe this 30th annual celebration of America's sports car. The emphasis on fun and camaraderie is one of the reasons that legions of 'Vette enthusiasts from around the Midwest rev into Eureka Springs for the bash — one of the three largest non-commercial Corvette events in the U.S.
The highlight is the Saturday car show at Pine Mountain Village (less than two miles south of downtown). Trophies will be awarded in 10 categories grouped by model year, as well as Best of Show. The show and other events during the weekend are free to spectators.
Four days and four nights of bluegrass and jamgrass (bluegrass's hippie-fied cousin) at The Farm, a 160-acre private outdoor event space 10 miles northwest of Historic Downtown. More than 20 stalwarts of the genre will perform amid forests and scenic mountain views — including Railroad Earth (two nights, four sets), Sam Bush, Leftover Salmon and The Infamous Stringdusters. The festival, in its sixth year, also includes yoga classes, live art installations, all sorts of workshops and lots of activities for youngsters.
That's Minis as in — you guessed it — cars. Better known by its acronym, MITO, this low-key event invites Mini aficionados to gather in Eureka Springs, starting on Friday with a meet-and-greet at the Convention Center at the Best Western Inn of the Ozarks, the event's headquarters. On Saturday, it's the car show, group photo and mingle at the Great Passion Play parking lot. This year's edition skips the Mini parade through Eureka Springs. MITO has no registration fee.
You've gotta hand it to us — our car events sure are eclectic. After canceling the 2020 show, this celebration of the legendary German sports car brand returns for year 15. In 2005, Porsche Palooza attracted 57 Porsche models; in '19, 350 works of automotive art from all around the country descended on Eureka Springs. Porsche Palooza includes an extensive schedule of driving tours through the curves and hills of Eureka Springs' surrounding areas, plus dinners, shows and competitions. An array of models — from vintage classics to modern supercars — will be on display around town, concentrated in the parking lot of the host hotel, the Best Western Inn of the Ozarks.
This big music to-do, which takes place at venues around Eureka Springs, is in its — wait for it — 74th year. It's hailed as the oldest folk fest in the country. To illustrate that the OOFF is not tethered to tradition and has changed with the times, this year's headliner is Gangstagrass, a bluegrass/hip-hop band whose song "Long Hard Times to Come" was the Emmy-nominated theme to the hit TV show Justified. The band will perform at The Auditorium downtown on Saturday, November 13. Other folksters slated to play include Todd Snider (who opens the fest on November 11 at The Auditorium), Arkansause, Jonathan Byrd and the Pickup Cowboys, Melissa Carper and the Blue Hankies, Still on the Hill, Sam Baker, and a bunch of acts playing free shows in Basin Park on Friday, Saturday and Sunday. The best source for information and updates is the festival's Facebook page.
---
From The Blog
You Might Also Like