Four Scenic Drives Near Eureka Springs That'll Take Your Breath Away
Four Scenic Drives Near Eureka Springs That'll Take Your Breath Away
Find a road, pick a direction, and you're guaranteed an enchanting ride near Eureka Springs. After all, we're in the heart of the Ozarks — one of the most scenic places on earth — with no major cities to obstruct the view. 
That said, there are some established routes lauded for their history, terrain, views and roadside charm — both natural and man-made. You can take a leisurely trip and soak up the amazing vistas, or pick up the pace and experience the thrill of one curve after another. 
Here are four can't-miss scenic drives that are guaranteed to provide an amazing ride. In all but one case you'll have to travel a few miles to reach these designated scenic roadways, but getting there will be an unforgettable journey in and of itself.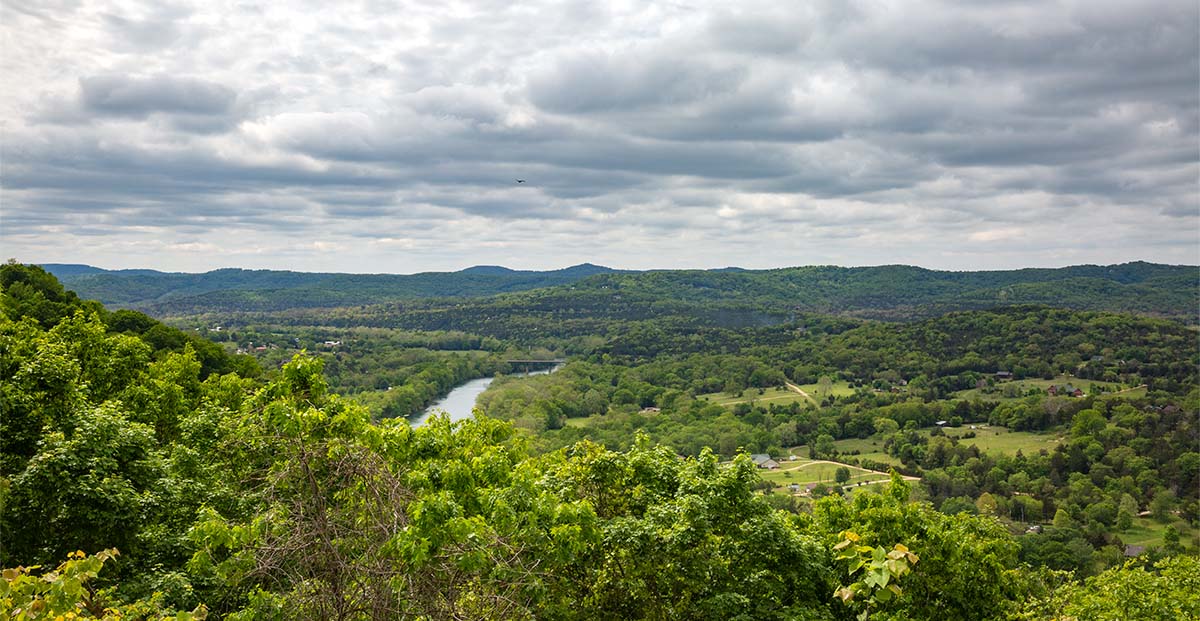 Named the top motorcycle ride in the U.S. by the USA Today Reader's Choice Poll, the Pig Trail is a terrific cruise no matter what kind of vehicle you're rollin' in. Officially, this scenic byway on Arkansas Highway 23 begins in Brashears, about 50 miles south of Eureka Springs. But the section of 23 to get there is just about as rugged and scenic as the official route, with a bounty of turns, undulating hills and long inclines and descents. There's forest on both sides, with openings that provide breathtaking views of the mountains. 
If you care to incorporate stops, don't miss Turpentine Creek Wildlife Refuge (an awe-inspiring big cat preserve), the McIlroy State Game Management Area, Withrow Springs State Park and several quaint small towns. There will be no more towns once you hit the Pig Trail, but you'll encounter lovely Pig Trail Falls. The entire round trip from Eureka Springs and back encompasses 75 invigorating miles. Most agree that the byway got its name because it was once a popular back-roads route to Arkansas Razorbacks football games. Still is, for some folks.
Another road that's nationally lauded for its picturesque quality, Arkansas Highway 7 runs the length of the state, about 290 miles north to south. From Eureka Springs, head east about 40 miles to Harrison and cut south to get on Arkansas's first state-designated scenic byway. It's a curvaceous road with rolling hills and plenty of dense foliage. You'll see mountain vistas stacked up in the distance. At Jasper, 20 miles south, the curves smooth a bit and the views open up even further. 
It's your call how long you stay on this remarkable roadway, but Jasper is a good turnaround point if you're in it for a leisurely ride. Round trip from Eureka Springs is about 120 miles. Consider stopping for a tour of Mystic Caverns, just north of the town of Dogpatch. 
Besides the gorgeous Ozarks scenery you'll take in as you drive along America's first National River, you'll encounter roadside waterfalls and towering bluffs, and may see herds of elk and other wildlife. From Eureka Springs, head about 50 miles southeast to Arkansas Highway 43, which for several miles runs just west of the Buffalo River. 
The waterway, officially named the Buffalo National River in 1972, flows freely for 135 miles and is one of just a few undammed rivers remaining in the Lower 48. Seeing as you're out this way, why not get up close? The Buffalo Outdoor Center offers kayak rentals, hiking, ziplines and mountain biking.
For a shorter, closer trip, this 25-mile jagged circle that runs northwest of town is sure to delight. You'll cross the Beaver Bridge, pass the beautiful Blue Spring Heritage Center, and go over three different bodies of water. You can start out in either direction, but we recommend heading west on U.S. Route 62 for a few miles, then veering right onto Arkansas Highway 187, which will loop you back to Eureka Springs.
So get out there, drive safely, and enjoy the ride!
---
From The Blog
You Might Also Like