Six Reasons Why Eureka Springs is an Outdoor Wonderland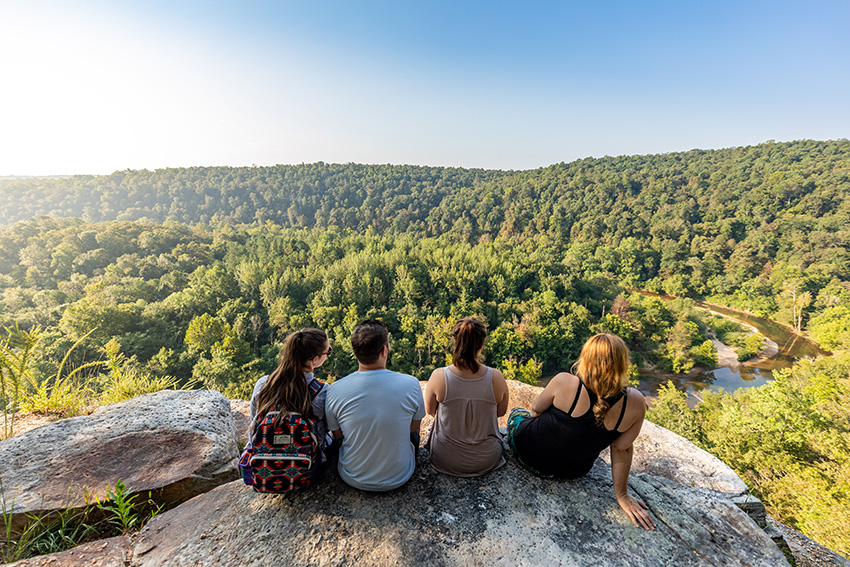 Six Reasons Why Eureka Springs is an Outdoor Wonderland
Eureka Springs is located in the heart of the Ozarks, one of the most scenic, unspoiled regions in the eastern half of the United States. Even more appropriately, we're located in Arkansas — the Natural State. That's why visitors come to Eureka Springs for more than just arts, culture, and exceptional dining. They also come for the exciting array of outdoor adventures we have to offer.
In and around Eureka Springs, you can go …
Hiking
Our countless trails offer a full range of hiking experiences, from relaxed to hardcore. On the more leisurely side, there's Black Bass Lake on the western fringe of downtown. It includes three trails, relatively short and level, that offer gorgeous wild scenery and wooden bridges. Five miles north is our jewel, Lake Leatherwood City Park, which totals 1,600 acres surrounding an 85-acre lake. The park includes more than 25 miles of hiking and biking trails with varying terrains, all of which are closed to motor vehicles. Thirty miles west of downtown is beautiful Beaver Lake, which offers an array of hiking options, highlighted by the 4.7-mile Beaver Lake Loop Trail. These just scratch the surface of hiking options in the Eureka Springs area. Click here for more detailed information.
Biking
Eureka Springs offers delightful biking of all sorts, be it an easygoing pedal through downtown or a jaunt on our many parks and trails. We're home to the best mountain biking in mid-America. You can choose from an array of beginner or intermediate courses, while you Ozark Mountain daredevils can opt for the Lake Leatherwood Downhill Challenge, with rock drops and jumps. The Great Passion Play grounds offer four beginner trails, seven intermediate trails and six expert trails, all with religious-themed names (from Genesis to Deliverance).
Caving
Everyone finds caves fascinating. (We certainly do!) Fortunately, our neck of the Natural State is blessed with plenty of underground wonderlands. There are three first-rate cave experiences within easy driving distance of downtown. Cosmic Cavern certainly lives up to its name, with amazing rock formations and two lakes (whose bottoms have never been discovered). The tour takes about an hour and 15 minutes and, because it's a constant 64 degrees inside, you'll be comfortable there any time of year. Onyx Cave, which stays 57 degrees, has been toured since 1893, making it the oldest show cave in Arkansas. Full of spectacular formations, it's a remarkable example of subterranean beauty. A radio-guided tour takes about 30 minutes. You can also pan for semi-precious gems and even do some axe-throwing at the facility. War Eagle Cavern on Beaver Lake offers traditional guided tours, while more adventurous types can sign on for Wild Cavern Tour, where you'll wriggle and crawl through two miles of narrow passages.
Watersporting
Eureka Springs is surrounded by remarkable bodies of water, which you'll certainly want to get on — or in. There are so many terrific places to kayak, canoe, and paddleboard, or just jump in for a refreshing dip. Kings River presents 90 miles of navigable wilderness, and is one of only five north-flowing rivers in the continental U.S. The winding waterway offers several entry points near downtown. Lake Leatherwood, 85 acres of refreshing water, offers limitless fun, and has a paved boat ramp for easy access. And of course there's Beaver Lake, which is shaped like a jigsaw piece and poses endless opportunities for exploring. Don't overlook fishing. The waters around Eureka Springs are filled with different types of bass and trout, walleye and other species. We have several stores that will rent you all the watercraft and gear you'll need, with some offering guide services. They include Kings River Outfitters, Float Eureka, Riverside Canoe Rentals, Holiday Island Marina and Trigger Gap Outfitters. Beaver Dam Store specializes in fishing gear.
Golfing
If your idea of outdoor fun includes chasing a little white ball through some beautiful scenery, Eureka Springs has two fine golf courses within convenient driving distance. And unlike courses in splashy resort areas, ours are affordable. They feature rolling terrain, with plenty of trees and water. The nearest is Holiday Island Country Club, just six miles north of downtown Eureka Springs, with an 18-hole championship course. Carroll County Country Club, 10 miles east in Berryville, is a nine-hole course with small, tricky greens and wide fairways. Feel like playing 18? No problem. Simply go around again and play from different tees!
Ziplining
Usually you have to venture out into the sticks to find a zipline course. Not here in Eureka Springs. Ozark Mountain Ziplines is on the western edge of downtown. You'll soar by the seat of your pants up to 300 feet high, over and through treetops — with babbling brooks, hardwood forests, and limestone cliffs below you. OMZ has 10 zipline cables that run up to 2,000 feet in length, a few with a strong downward tilt so you can really build up some speed. This family-friendly place also has a long swinging bridge, which is a thrill to cross.
---
From The Blog
You Might Also Like